About the Author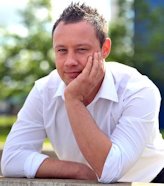 Chris Lepkowski was born to Polish parents in West Bromwich and grew up a few hundred yards from one of the iconic venues in Albion's long and colourful history, their former Stoney Lane ground.
After starting his career on the Bromsgrove Messenger, he made a quick pit-stop at the Motoring News newspaper before putting in a swift lap at Autosport.com. From there he moved to FourFourTwo's website and in 2001 was handed the privileged job of covering Albion for the Birmingham Mail.
Chris has also contributed to Champions League, the Backpass retro magazine, The Rough Guide to Cult TV, The Rough Guide to Football, Pay As You Play (The True Price of Success in the Premier League Era) and other publications.
Now living in Walsall, he has a daughter who has yet to be bitten by the football bug.